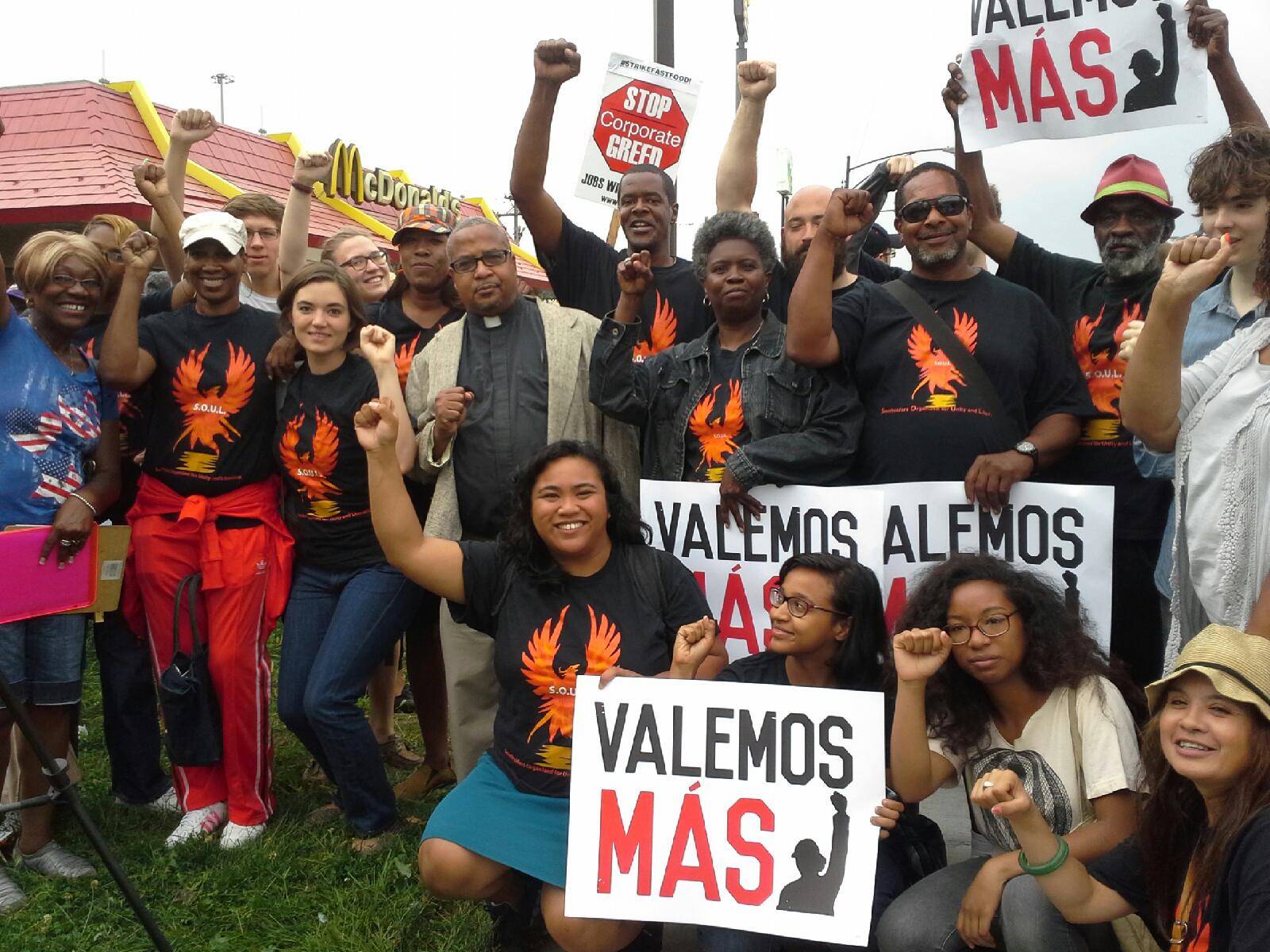 At this critical moment in American history, workers in every industry need $15/hour and union rights more than ever. A massive, largest-ever mobilization of underpaid workers on April 14, 2016 will send a strong message to large corporations and elected leaders that we're not stopping until we win.
Here's what wrong with our economy: American families are being forced to scrape by because big corporations are ripping off workers, ripping off taxpayers, and ripping off communities. To get richer and richer, big corporations manipulate the rules to avoid paying fair wages and their fair share of taxes, forcing working people and taxpayers to foot the bill. As a result workers and communities are being starved of the money we need for our future, and left with impossible choices.
Because of the wage and tax schemes of greedy corporations, workers, consumers and taxpayers face a series of impossible choices:
American workers aren't paid enough to afford child care and we don't have the public resources we need to fund quality child care programs;
People who provide critical home care and nursing home care for seniors and persons with disabilities can't afford to take care of themselves, and we can't provide access to quality long-term care for the growing number of Americans who need it;
Adjunct professors and other faculty who educate our young people at public universities can barely make ends meet, while the schools themselves are starved for funding, putting higher education out of reach for too many people.
This has to end.
Consider the difference between a hard-working undocumented immigrant mother and a powerful corporation like McDonald's. She's striving for a better life for herself and her kids. She works hard and pays her taxes, but still can't afford to pay for child care. Meanwhile, McDonald's cheats its workers, pays the bare minimum and dodges taxes despite making billions in profits and paying out millions to top executives. This undocumented mother, who is forced to live in the shadows, who takes the bus to work every day to provide for her family, pays a higher percentage of taxes than America's second-largest employer, McDonald's. That's just wrong. Despite what some politicians say, it's clear big corporations like McDonald's are the problem in this economy – not workers.
McDonald's is leading this race to the bottom. The business model pioneered and perfected by McDonald's – one of low wages, tax avoidance and no accountability – is now what we find in every industry — like home care, child care, airports, universities and more. McDonald's has led this race to the bottom that's crushing communities and workers in every corner of our economy. By taking the fight to McDonald's and holding them accountable, we're standing up for workers in every industry to change our economy once and for all.
That's why on April 14, 2016 – the eve of Tax Day – workers in the Fight for $15 in the U.S. and around the globe are coming together to hold McDonald's and other corporations accountable, demand $15 and union rights and call for an end to tax evasion and poverty wages.
Home care workers, child care workers, university faculty, fast food workers, airport workers and many others will hold massive actions in a record 300 U.S. cities and 40 countries calling for fair wages and for corporations to pay their fair share. In America, the day will be book-ended by strikes at McDonald's in the morning and evening. Worldwide, workers in hundreds of cities will strike and demonstrate to hold corporations accountable.
For additional information or for information about transportation, please contact us at info@soulinchicago.org or call us at (773) 280-5290.